terug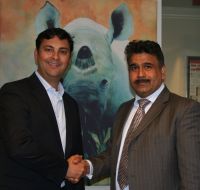 Circle of Excellence Award 2008

TSTC heeft voor de tweede keer op rij de Circle of Excellence Award 2008 ontvangen van EC-Council. Deze werd uitgereikt op de Hacker Halted Conference 2008 in Amerika. TSTC ontvangt de award uit handen van Rajive Kapoor - Founder Member of "Cyber Crime Fighters Association" en verantwoordelijk voor alle EC-Council activiteiten in Europa.
Circle of Excellence (Europe)

1. Firebrand Training (UK)
2. TSTC (Benelux)
3. Bremer Akademie (Germany)
4. Sysdream SARL (France )
5. Netacademia (Hungary)
TSTC is enorm trots op deze onderscheiding. Het steunt ons in ons streven naar kwaliteitsopleidingen.
14 jaren geleden