terug
IT & Information Security congres
Woensdag 11 februari 2015 vindt u TSTC als sponsor op de 11e editie van het IT & Information Security congres in Amsterdam.
U bent in de pauzes van het congres welkom op onze stand voor een gesprek over security en privacy trainingen.
Aanmelden kan gratis via onderstaande banner via relatiecode
15665/09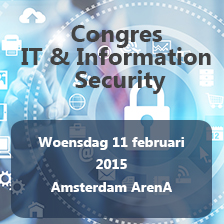 Programma IT & Information Security 2015
Het congres bestaat dit jaar uit diverse vaste onderdelen en break-out sessies waarbij u de keuze hebt uit verschillende onderwerpen en sprekers.
Dagvoorzitter Sven Kockelmann leidt een tweetal talkshows met als thema's 'De mens' en 'Privacy' waarin deelnemers als Ad Krikke (Corporate ICT Security office, DSM) en Udo Oelen (Hoofd toezicht private sector, College bescherming persoonsgegevens) aan de tand worden gevoeld en hun visies delen.
Philips, Microsoft en CA Technologies zijn verantwoordelijk voor de Keynotes:
Security auditing bij Philips - What keeps you awake at night?
Wim Blaauwendraat, Audit Director Philips Electronics Nederland B.V
Hoe voorkom ik dat mijn data in onbevoegde handen komt? - Data bescherming in een Cloud en Mobile wereld
. Erik Jan van Vuuren, Lead Microsoft Azure

State of the Union: Aware, Engage and Action
. Christoph Luykx, Director Government Relations EMEA CA Technologies
KPN en Exact verzorgen praktijkcases over Security Awareness en Cyber Security in een Cloud Service organisatie.
Het volledige programma download u
hier
.
4 jaren geleden